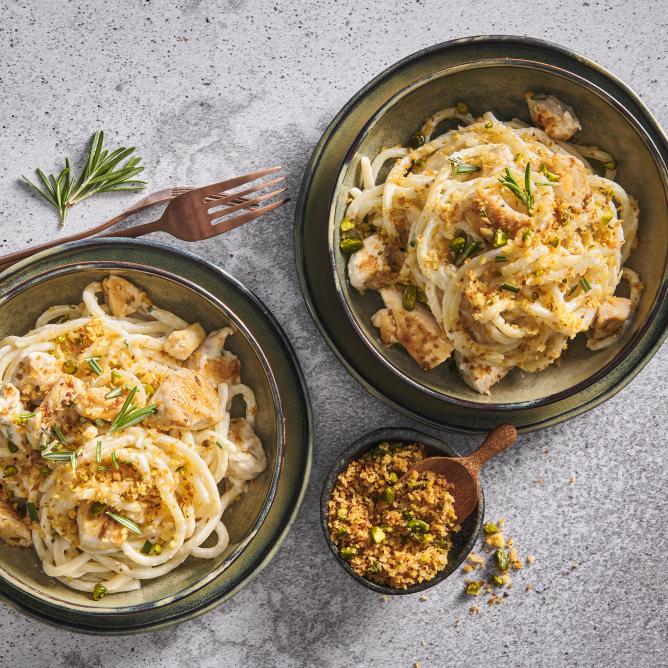 Pici with chicken and rosemary
Nutrition facts per serving:
Energy in kcal

about 776

Fat

about 19g

Carbohydrates

about 99g

Protein

about 48g
This is needed
This is needed
for 4 people
Pistachio crumb
40 g panko breadcrumbs
2 tbsp oil
30 g unsalted, shelled pistachios, coarsely chopped
0.25 tsp chilli flakes
0.25 tsp salt
Pici
500 g noodles
salted water, boiling
Chicken
450 g diced chicken
1 tbsp oil
0.5 tsp salt
a little pepper
1 sprig rosemary
Sauce
100 g ricotta
0.5 dl white wine
a little pepper
0.25 tsp salt
2 sprigs rosemary, roughly chopped
View these products
And that's how it's done
And that's how it's done
Pistachio crumb
Heat the oil in a non-stick frying pan, reduce the heat. Stir fry the breadcrumbs and pistachios for approx. 4 mins., season, remove, set aside.
Pici
Cook the pasta in boiling salted water until al dente. Set aside approx. 250 ml of the cooking water, drain the pasta.
Chicken
Heat the oil in the same pan. Season the chicken, fry in batches along with the rosemary for approx. 8 mins., remove and set aside.
Sauce
Add the ricotta, wine and reserved cooking water to the same pan, stir until smooth, season. Add the pasta and chicken, mix and heat gently, plate up. Sprinkle the pistachio crumb and rosemary on top.