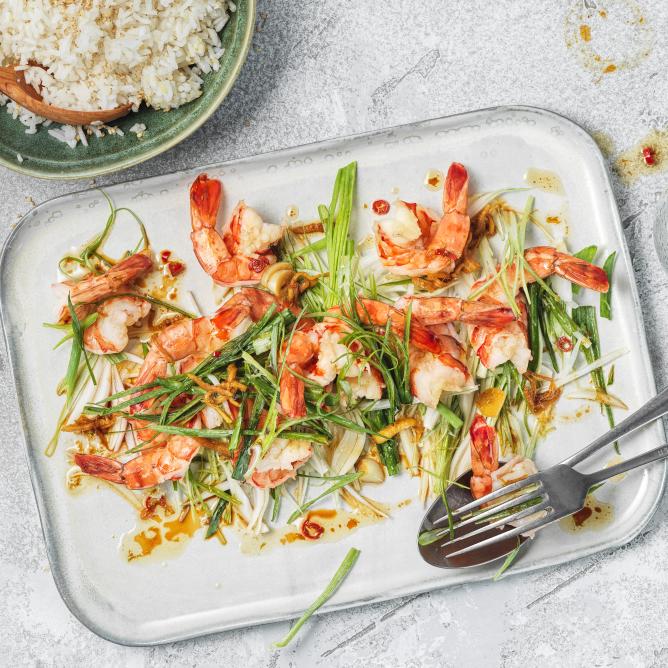 Prawns with ginger and chilli
Nutrition facts per serving:
Energy in kcal

about 619

Fat

about 22g

Carbohydrates

about 66g

Protein

about 38g
This is needed
This is needed
for 4 people
To prepare the prawns
800 g unpeeled raw prawns (organic) (p. ex. Swiss Shrimp prawns)
Rice
1 tbsp sesame oil
2 garlic clove, finely chopped
300 g jasmine rice
1 tbsp sesame seeds
2 cm ginger, finely chopped
1 tsp salt
5 dl water
Steamed prawns
0.5 dl sesame oil
1 red chilli, deseeded, cut into rings
0.25 dl sunflower oil
3 spring onion incl. green part, cut into thin slices
2 garlic clove, sliced
water, boiling
50 g ginger, cut into thin slices
3 tbsp soy sauce
2 lime, rinsed with hot water, dabbed dry, grated zest and juice
0.5 bunch coriander, torn into pieces
View these products
And that's how it's done
And that's how it's done
To prepare the prawns
Cut off the legs with scissors, carefully remove the shell. Slice along the back but do not cut all the way through, force open the prawns.
Rice
Rinse the rice in a sieve under cold running water until the water runs clear, then drain well. Heat the oil in a pan. Fry the garlic, ginger and sesame over a medium heat for approx. 5 mins. until golden brown. Add the rice and salt, cook briefly. Pour in the water, bring to the boil. Cover the rice and simmer over a very low heat for approx. 10 mins., turn off the heat and leave the rice to fluff up in the covered pan for approx. 10 mins. (do not remove the lid). Separate the rice with a fork.
Steamed prawns
Heat the oil in a small pan. Add the ginger, garlic and chilli, cook for approx. 10 mins. to release flavour. Place a steamer basket in a wide pan, fill with water to just below the bottom of the basket. Add the prawns, cover and steam for approx. 3 mins. Remove and drain. Serve the prawns on a platter, top with the spring onions. Combine the seasoned oil with the soy sauce and lime juice, pour over the top. Add the lime zest and coriander. Serve the prawns with the rice.