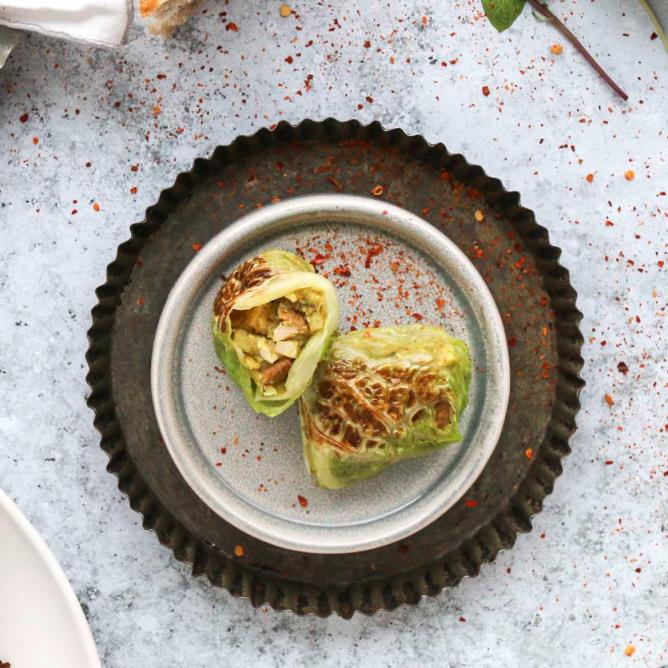 Vegan cabbage rolls with mint dip
Nutrition facts per serving:
Energy in kcal

about 373

Fat

about 19g

Carbohydrates

about 27g

Protein

about 19g
This is needed
This is needed
for 4 people
Savoy cabbage
1 savoy cabbage (approx. 1 kg)
2 litres salted water, boiling
Filling
1 garlic clove, squeezed
1 tbsp mild curry powder
100 g leek, cut into thin slices
2 tbsp coconut oil
100 g frozen peas, defrosted
100 g carrots, cut into cubes
200 g smoked tofu, cut into cubes
2 dl vegetable bouillon
1 tin chickpeas (approx. 215 g), rinsed, drained
Mint dip
2 tbsp lemon juice
200 g coconut milk yoghurt
1 garlic clove, squeezed
1 bunch peppermint, finely chopped
salt to taste
a little chilli flakes
View these products
And that's how it's done
And that's how it's done
Savoy cabbage
Cut away the cabbage stalk, carefully remove the leaves and pare down the thick midribs. Blanch the leaves in batches in boiling salted water for approx. 3 mins., remove with a slotted spoon, drain, lay out individually on a clean kitchen towel.
Potatoes
Boil the potatoes (unpeeled) in the same water for approx. 20 mins. until soft, drain and leave to cool.
Filling
Heat the oil in a wide non-stick frying pan. Briefly sauté the garlic and curry powder, add the leek. Reduce the heat, add the peas, carrots, chickpeas and tofu, cook for approx. 5 mins. Pour in the stock, simmer for approx. 10 mins. until the vegetables are soft and all the liquid has been absorbed. Peel the potatoes, roughly mash with a fork and add to the vegetables. Knead the mixture thoroughly until you have a compact mass.
Cabbage rolls
Spread approx. 1 tbsp of filling on each cabbage leaf, fold in the sides and roll up. Heat the oil in a non-stick frying pan. Fry the cabbage rolls in batches for approx. 3 mins. on each side.
Mint dip
Puree the coconut yoghurt with the lemon juice, garlic and mint, season with salt. Serve the mint dip with the cabbage rolls, sprinkle with a few chilli flakes.