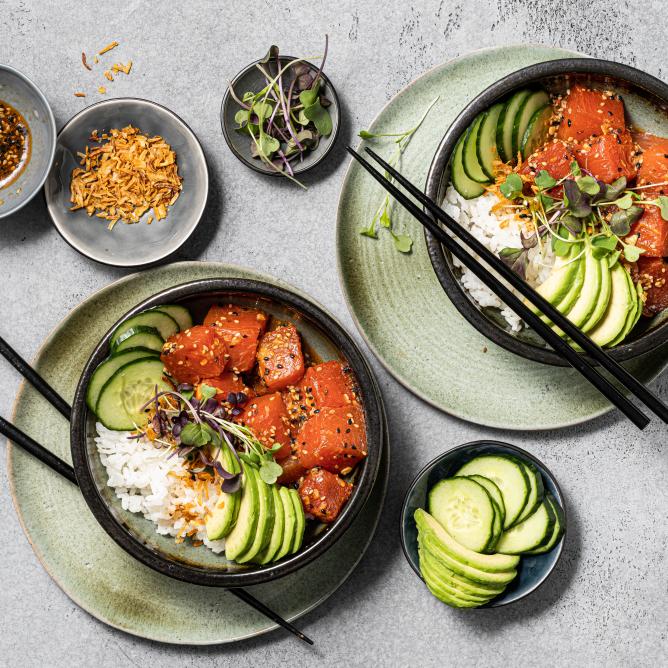 Vegan poke bowl with watermelon "tuna"
Nutrition facts per serving:
Energy in kcal

about 554

Fat

about 17g

Carbohydrates

about 86g

Protein

about 11g
This is needed
This is needed
for 4 people
Marinate the melon
2 tbsp sesame oil
2 tbsp rice vinegar
1 tbsp sunflower oil
2 tbsp soy sauce
1 nori sheets
0.5 tsp cayenne pepper
Season the melon
1 tbsp sesame seeds
2 cm ginger
0.5 tbsp black sesame seeds
1 garlic clove
Cook the rice
300 g sushi rice
4.5 dl water
Season the rice
1 tsp sugar
3 tbsp rice vinegar
0.75 tsp salt
Poke bowls
1 cucumber
1 avocado
30 g Micro Greens
3 tbsp fried onions
View these products
And that's how it's done
And that's how it's done
Cut the melon
Peel the melon, remove the seeds, cut into approx. 3 cm cubes.
Marinate the melon
Mix the vinegar, oil, soy sauce and cayenne pepper in a bowl. Break the nori sheet into pieces, mix in with the melon cubes, cover and marinate in the fridge for approx. 4 hrs. Carefully mix the melon every now and then. Remove the melon cubes from the marinade, remove the nori, set aside the marinade. Place the melon cubes on a baking tray lined with baking paper.
To roast
Approx. 1 hr. 15 mins. in the centre of an oven preheated to 180°C, remove.
Season the melon
Mix the melon with the reserved marinade and sesame. Finely grate the ginger and garlic, mix in.
Cook the rice
Rinse the rice in a sieve under cold running water until the water runs clear, drain well. Place the rice and water in a pan, leave to soak for approx. 15 mins. Bring the water to the boil, reduce the heat, cover and simmer over a low heat for approx. 10 mins. Turn off the heat and leave the rice to fluff up in the covered pan for approx. 10 mins (do not remove the lid).
Season the rice
Separate the rice with a fork. Combine the vinegar, sugar and salt, pour over the top, mix carefully, and leave to cool.
Poke bowls
Cut the cumber into slices. Halve the avocado and remove the stone, cut into cubes. Serve the rice in bowls. Top with the watermelon "tuna", cucumber, avocado, micro greens and fried onions.