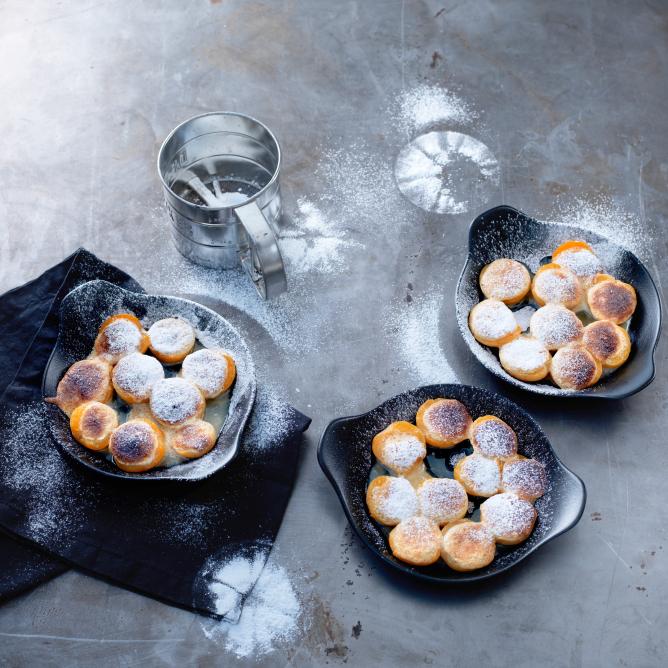 Nutrition facts per serving:
Energy in kcal

about 267

Fat

about 8g

Carbohydrates

about 38g

Protein

about 7g
This is needed
This is needed
for 4 people
600 g apricots
1 tbsp sugar
1 dl white wine or apple juice
Soufflé mix:
3 tbsp liquid honey
2 fresh egg yolk
2 fresh egg whites
1 pinch salt
1 tbsp sugar
4 tbsp ground almonds
View these products
And that's how it's done
And that's how it's done
Halve and pit the apricots, then place the halves next to each other with the curves facing downwards in 4 ovenproof individual ramekins. Mix the sugar into the wine, then pour into the ramekins in between the fruit.
Soufflé mix:
Mix the egg yolks with the honey until the mixture turns paler. Beat the egg whites with the salt until stiff. Add the sugar and continue beating until the mixture turns glossy. Carefully fold in the almonds and the egg yolk mixture. Spoon the mixture into a smooth-nozzled pastry bag, top the apricot halves with this mixture.
Bake:
for approx. 10 mins. in the centre of an oven preheated to 200°C. Dust the dessert with icing sugar before serving.