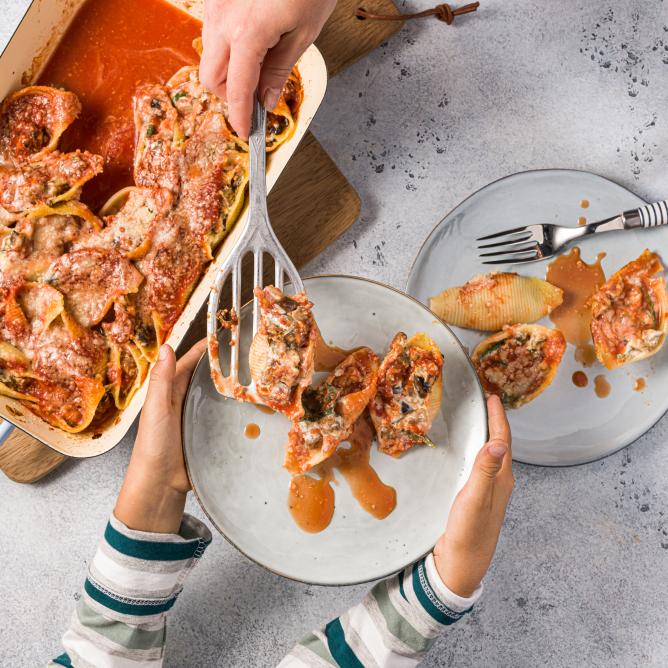 Conchiglioni with aubergine filling
Nutrition facts per serving:
Energy in kcal

about 451

Fat

about 20g

Carbohydrates

about 45g

Protein

about 21g
This is needed
This is needed
for 4 people
Filling
2 aubergine
2 tbsp olive oil
0.25 tsp salt
1 bunch basil
40 g grated Parmesan
250 g ricotta
Pasta shells
200 g conchiglioni
salted water
a little olive oil
Tomato sauce
1 garlic clove
2 dl water
1 glass puréed tomatoes (approx. 350 g)
0.25 tsp salt
a little pepper
40 g grated Parmesan
Tools
Apron, Bowl, Colander, Cooking spoon, Frying pan, Garlic press, Gratin dish, Measuring cup, Oven mitts, Pan, Paring knife, Tablespoon, Teaspoon, Timer, Cutting board, Kitchen scales
View these products
And that's how it's done
And that's how it's done
Filling
Dice the aubergines. Heat the oil in a non-stick frying pan, cook the aubergines for approx. 15 mins., season with salt. Allow the aubergines to cool slightly. Tear the basil, add to the aubergines along with the ricotta and parmesan, mix.
Pasta shells
Precook the pasta in boiling salted water for approx. 12 mins., drain, rinse with cold water. Grease the baking dish (approx. 2 l). Stuff the conchiglioni with the filling, transfer to the dish.
Tomato sauce
Pour the passata into a bowl. Add water to the empty tomato jar and shake well, pour into the bowl. Press the garlic clove, stir into the tomatoes, season. Add the tomato sauce to the dish containing the conchiglioni, sprinkle with parmesan.
To bake
Approx. 30 mins. in the centre of an oven preheated to 180°C.