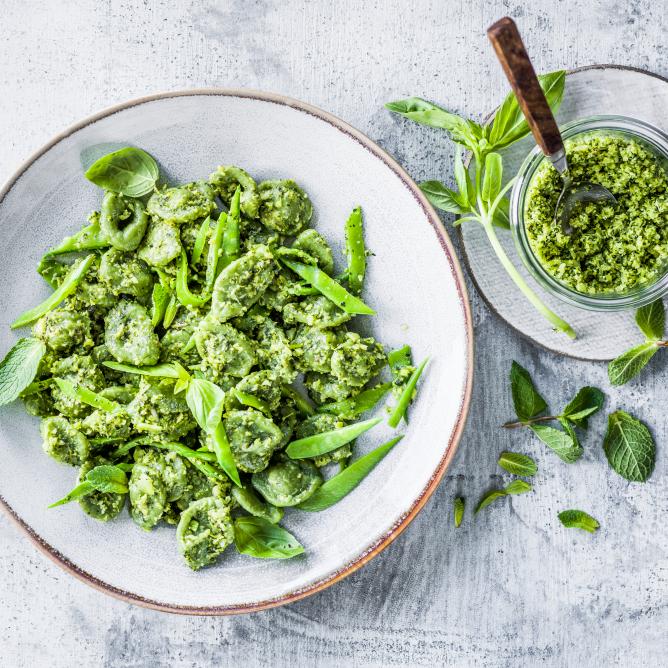 Orecchiette with broccoli pesto
Nutrition facts per serving:
Energy in kcal

about 458

Fat

about 14g

Carbohydrates

about 61g

Protein

about 18g
This is needed
This is needed
for 4 people
Orecchiette
100 g baby spinach
200 g white flour
salted water, boiling
100 g durum wheat semolina
Broccoli pesto
0.25 tsp salt
1 bunch peppermint, several leaves set aside
300 g broccoli, cut into florets
1 bunch basil, several leaves set aside
1 garlic clove
50 g grated Parmesan
1 tbsp lemon juice
3 tbsp olive oil
a little pepper
To cook the orecchiette
salted water, boiling
250 g sugar snap peas, cut into strips
View these products
And that's how it's done
And that's how it's done
Orecchiette
Blanch the spinach in boiling salted water for approx. 30 secs. Set aside approx. 100 ml of cooking water. Drain and squeeze out the spinach, then puree with the reserved cooking water (makes approx. 180 g of spinach puree). Mix the flour and semolina in a bowl. Add the spinach puree, mix and knead into a soft, smooth dough. Shape the dough into a ball, then leave to rest for approx. 30 mins. at room temperature under a bowl rinsed in hot water. Quarter the dough, shape into rolls the width of your finger, cut into approx. 1 cm pieces. Flatten the pieces of dough by dragging a butter knife over them. Pull the dough off the knife, push the dough inside out to create the orecchiette shape.
Broccoli pesto
Place a steamer basket in a wide pan, fill with water until it is just below the bottom of the basket, add the broccoli, season with salt and cook for approx. 5 mins. Blitz the broccoli, basil, peppermint and garlic in a food processor, stir in the cheese, oil and lemon juice, season.
To cook the orecchiette
Cook the orecchiette in boiling salted water for approx. 5 mins. until just al dente, add the sugar snaps and cook for a further 2 mins., drain. Mix the orecchiette and sugar snaps with the broccoli pesto, garnish with the reserved herbs.