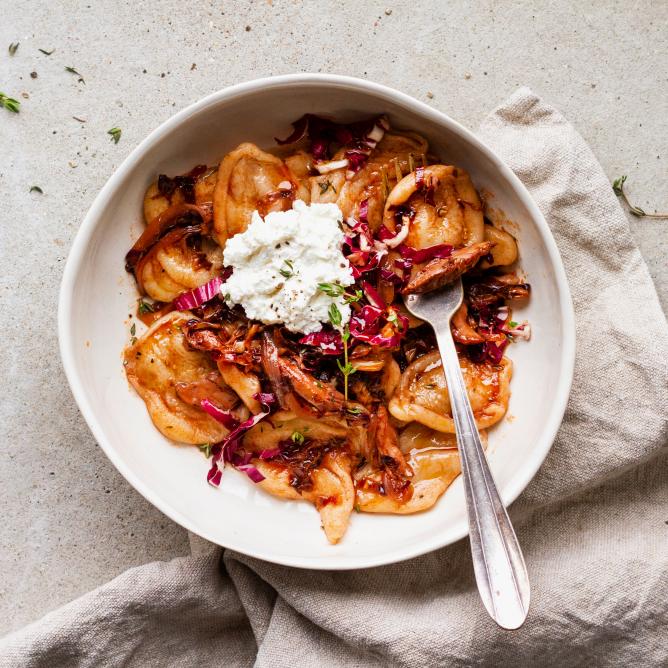 Orecchioni with red chicory
Nutrition facts per serving:
Energy in kcal

about 474

Fat

about 12g

Carbohydrates

about 59g

Protein

about 26g
This is needed
This is needed
for 4 people
Pasta dough
200 g flour for making dumplings
2.5 dl water
100 g white flour
1 pinch salt
Chicken
1 tbsp olive oil
2 chicken thighs (each approx. 200 g)
1 red onion, thinly sliced
3 tbsp tomato puree
5 dl red port
1 tbsp thyme, finely chopped
250 g red chicory, thinly sliced
100 g ricotta
0.25 tsp salt
View these products
And that's how it's done
And that's how it's done
Pasta dough
Place the flour and salt in a bowl, pour in the water, knead into a smooth dough. Cover and leave to rest for approx. 30 mins. In batches, shape the dough into rolls (each 2 cm in diameter), cut into pieces approx. 2 cm long. Using a knife, drag the pieces of dough along the work surface in batches, turn the rough side outwards. Note: Keep the rest of the dough covered at all times to prevent it from drying out.
To cook the pasta
Cook the pasta in salted water for approx. 4 mins. until al dente, drain and reserve approx. 100 ml of the cooking water.
Chicken
Heat the oil in a casserole dish, add the chicken, brown all over for approx. 3 mins. Reduce the heat, add the onion, tomato puree and thyme, sauté briefly. Pour in the port, cover and simmer for approx. 45 mins. Remove the chicken, pull away the meat using two forks. Reduce the cooking liquid for approx. 10 mins., stirring occasionally, add the reserved cooking water. Add the red chicory and chicken, season with salt. Add the pasta and heat gently. Serve with ricotta.