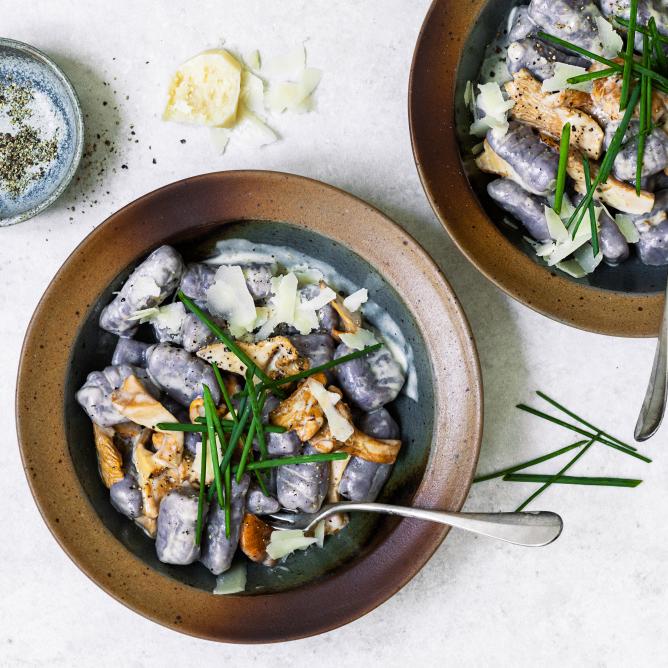 Nutrition facts per serving:
Energy in kcal

about 592

Fat

about 21g

Carbohydrates

about 76g

Protein

about 19g
This is needed
This is needed
for 4 people
Dough
700 g Blaue St. Galler potatoes (blue potatoes), freshly cooked, peeled
1 egg, beaten
300 g white flour
1.25 tsp salt
Sauce
1 tbsp oil
250 g chanterelles
1 dl white wine
2 dl single cream for sauces
0.25 tsp salt
50 g Parmesan, shaved into thin strips using a peeler
a little pepper
0.25 bunch chives, cut 4 cm long
View these products
And that's how it's done
And that's how it's done
Dough
Place a steaming basket into a wide pan, fill with water until it is just below the bottom of the basket, add the potatoes, season with salt, cover and cook over a medium heat for approx. 45 mins. until soft. Pass the potatoes through a food mill into a bowl, allow to cool slightly. Add the flour, egg and salt.
Gnocchi
On a lightly floured surface, shape the mixture into 4 rolls (each approx. 2 cm in diameter). Cut the rolls into pieces approx. 2 cm long. Using your thumb, roll them over the prongs of a fork to create a pattern. Place the gnocchi on a floured towel.
Sauce
Heat the oil in a frying pan, fry the chanterelle for approx. 3 mins. Pour in the wine, reduce almost completely, add the reserved cooking water and cream, heat through, season. Stir in the gnocchi and heat gently. Sprinkle with the parmesan and chives.
Cook the gnocchi
Cook the gnocchi in batches in gently simmering salted water for approx. 2 mins. until they float to the surface. Remove with a slotted spoon, drain, add the oil and keep warm. Set aside 100 ml of cooking water.