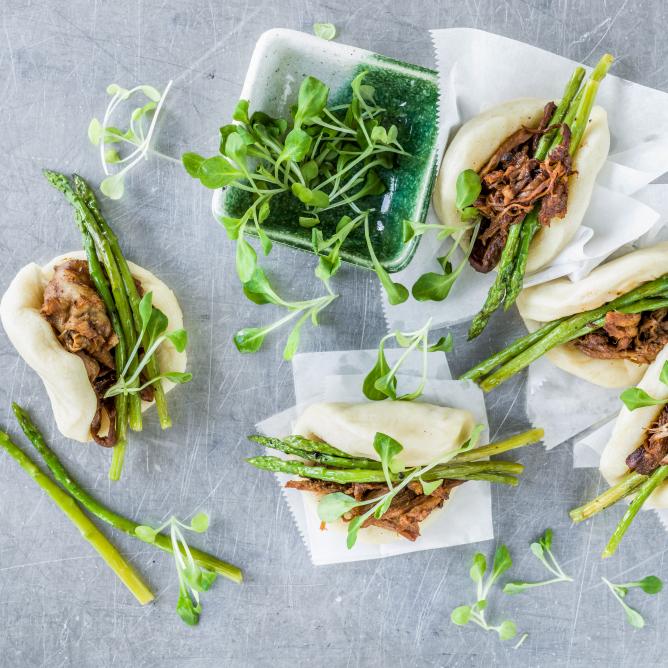 Bao buns with pulled pork and asparagus
Nutrition facts per serving:
Energy in kcal

about 340

Fat

about 17g

Carbohydrates

about 26g

Protein

about 20g
This is needed
This is needed
for 12 piece
To marinate the meat
2 tbsp cane sugar
2 tsp Dukkah (spice mix)
1 kg pork neck
1 tsp smoked paprika
Pulled pork
3 tbsp balsamic vinegar (e.g. apple balsamic)
1 garlic clove, pressed
1.5 dl meat bouillon
1.25 tsp salt
a little pepper
To roast in the oven
200 g thin green asparagus
a little pepper
0.5 tsp salt
Bao buns
2 dl full-cream milk
1 parcel dry yeast (approx. 7 g)
50 g butter, melted
0.5 tsp salt
350 g white flour
1 tsp baking powder
1 tbsp sugar
a little oil
To fill
30 g Micro Greens (e.g. mild)
Tools
One steaming basket with two levels, each lined with baking paper
View these products
And that's how it's done
And that's how it's done
To marinate the meat
Mix the sugar, dukkah and paprika, rub into the meat, cover and marinate in the fridge for approx. 12 hrs.
Pulled pork
Remove the meat from the fridge approx. 1 hr. before cooking, place in a roasting tin. Combine the balsamic with all the other ingredients up to and including the pepper, pour over the meat.
To roast in the oven
Approx. 4 hrs. in the lower half of an oven preheated to 160°C. Occasionally baste the meat with the liquid. Half way through, cover the meat with foil. Place the asparagus alongside the meat in the roasting tin, season and roast for a further 15 mins. until cooked. Remove from the oven, cover and leave to rest for approx. 20 mins. Pull away the meat using two forks, mix with the resulting cooking juices.
Bao buns
Combine the milk and warm butter in a bowl using the dough hook on a food processor, add the yeast. Mix the flour, salt, sugar and baking powder, mix in. Knead for approx. 10 mins. to form a soft, smooth dough, cover and leave to rise for approx. 1½ hrs. at room temperature. Roll out the dough to approx. 5 mm thick, cut out 12 circles (approx. 7 cm in diameter) using a cutter. Brush the circles with a little oil, fold in the middle, place in the prepared basket, cover and leave to rise once again for approx. 30 mins.
To steam the bao buns
Place the steaming basket in a wide-bottomed pan, fill with water until it is just below the bottom of the basket, cover and steam the buns over a medium heat for approx. 10 mins.
To fill
Fill the bao buns with half of the pulled pork, asparagus and micro greens, serve warm.