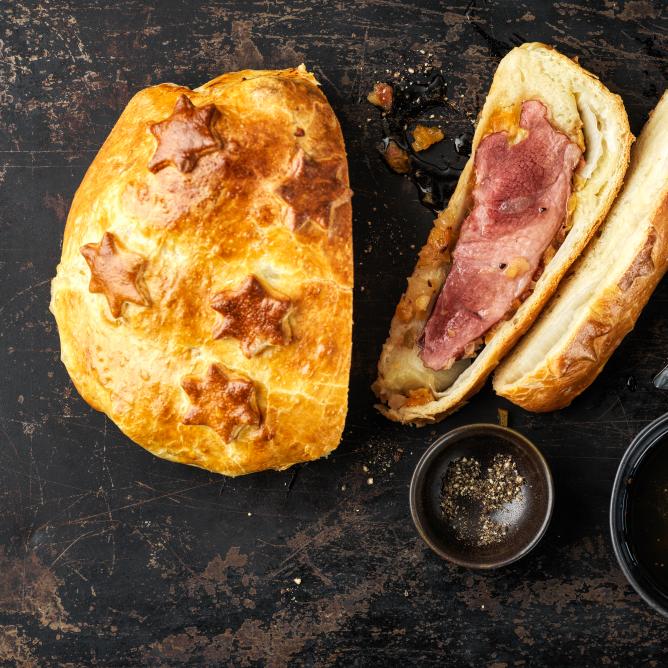 Pork shoulder in pastry with mostarda
Nutrition facts per serving:
Energy in kcal

about 806

Fat

about 25g

Carbohydrates

about 100g

Protein

about 42g
This is needed
This is needed
for 6 people
Chinese cabbage
300 g Chinese cabbage, whole leaves
water, boiling
Pork shoulder
800 g pizza dough
1 quick pork shoulder (approx. 830 g)
180 g mostarda (candied fruit with mustard), drained, minced, chopped
1 egg, beaten
4 tbsp Dijon mustard
Honey sauce
1 dl white wine
0.25 tsp salt
1 oranges, the whole juice
4 tbsp acacia honey
a little pepper
View these products
And that's how it's done
And that's how it's done
Chinese cabbage
Blanch the cabbage leaves for approx. 1 min., dip briefly in cold water, drain.
Pork shoulder
Cover and chill approx. 100 g of pizza dough for decoration. On a lightly floured surface, roll out the remainder of the dough into a rectangle (approx. 35 x 40 cm), place on a baking tray lined with baking paper, chill for approx. 15 mins. Remove the meat from the bag, pat dry. Mix the mostarda with the mustard, spread the mixture over the top of the pork shoulder. Arrange several cabbage leaves next to each other in the middle of the dough, place the pork shoulder on top with the mustard side facing down, cover with the remainder of the mustard mixture. Arrange the remainder of the cabbage on top, brush the edges of the dough with egg, wrap up the pork shoulder, place on the tray (seam side down). On a lightly floured surface, roll out the remainder of the dough to a thickness of approx. 7 mm. Cut out figures (e.g. stars), brush with water, use to decorate the pork shoulder. Cover and chill for approx. 30 mins., brush with egg.
To cook
Approx. 1 hr. in the lower half of an oven preheated to 180°C.
Honey sauce
Pour the wine, orange juice and honey into a small pan, mix well, bring to the boil, reduce to a syrupy consistency, season, serve with the carved pork.