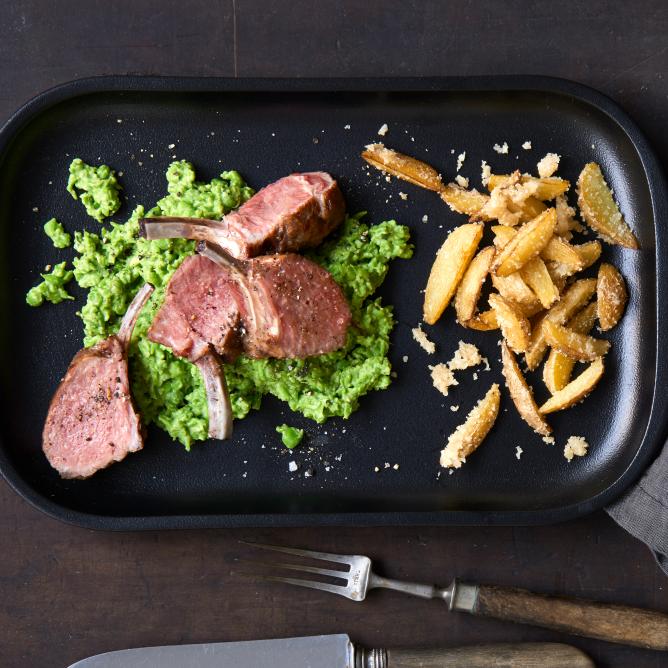 Rack of lamb with pea puree
Nutrition facts per serving:
Energy in kcal

about 651

Fat

about 29g

Carbohydrates

about 42g

Protein

about 47g
This is needed
This is needed
for 4 people
Meat
a little pepper
1 tsp sea salt
1 tbsp oil for frying
2 racks of lamb (each approx. 400 g)
Potatoes
2 tbsp oil for frying
500 g new potatoes, thinly sliced
3 tbsp grated Parmesan
3 tbsp breadcrumbs
0.5 tsp salt
Pea puree
2 tbsp water
0.5 tsp salt
1 tsp lemon juice
2 tbsp peppermint, roughly chopped
500 g frozen peas, slightly defrosted
150 g plain greek yoghurt
View these products
And that's how it's done
And that's how it's done
Meat
Remove the meat from the fridge approx. 30 mins. prior to cooking. Preheat the oven to 80°C, warm the platter and plates. Heat the oil in a frying pan. Season the meat, brown all over for approx. 5 mins., only turning when a crust has formed. Remove and place on the warmed platter. Insert the meat thermometer so that it does not touch the bone. Cook at a low temperature for approx. 1 1/4 hrs. in the centre of the oven. The core temperature should be approx. 55°C. The meat can then be kept warm at 60 °C for up to 30 mins.
Potatoes
Heat the oil in a non-stick frying pan. Place the potatoes in the pan, cover and fry for approx. 8 mins., remove the lid and finish cooking for approx. 4 mins. Combine the breadcrumbs and cheese, sprinkle on top, season with salt.
Pea puree
Heat the peas and water in a pan, cover and simmer for approx. 2 mins. Add the yoghurt, mint and lemon juice, puree, season with salt.