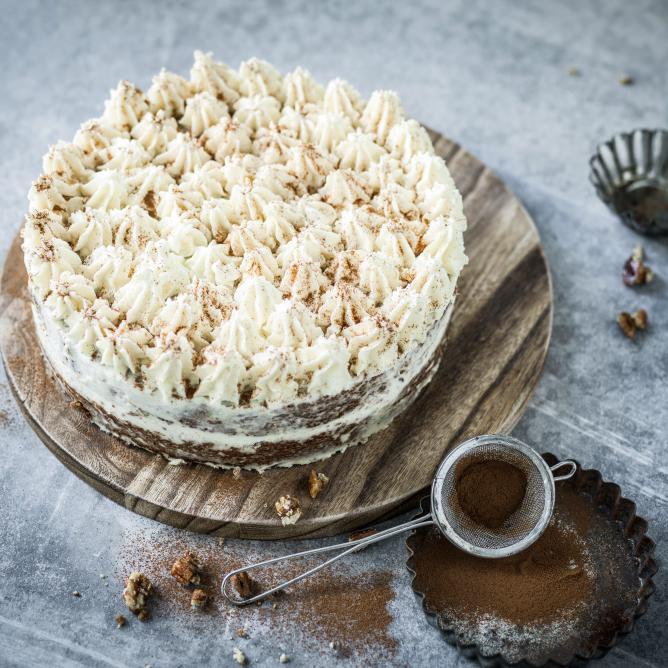 Christmas carrot cake with ginger frosting
Nutrition facts per serving:
Energy in kcal

about 474

Fat

about 35g

Carbohydrates

about 32g

Protein

about 7g
This is needed
This is needed
for 16 piece
Pecan nuts
1 tbsp water
40 g sugar
a little sea salt
50 g pecan nuts
Cake mixture
4 egg yolk
250 g cane sugar
2 tbsp olive oil
2 tbsp plain greek yoghurt
350 g carrots, finely grated
2 tsp cinnamon
1 cm ginger, finely grated
1 pinch salt
2 tbsp pineapple juice
a little nutmeg
300 g ground hazelnuts
70 g white flour
1 tsp baking powder
4 egg white
1 pinch salt
Frosting
100 g icing sugar
200 g butter, soft
400 g double cream cheese (e.g. Philadelphia)
120 g plain greek yoghurt
1 tbsp pineapple juice
5 cm ginger, finely grated
View these products
And that's how it's done
And that's how it's done
Pecan nuts
Boil the sugar and water in a pan without stirring. Reduce the heat and simmer, shaking the pan occasionally until a light brown caramel has formed. Remove the pan from the heat, add the nuts, mix, add salt to taste, divide onto a sheet of baking paper, allow to cool. Roughly chop the nuts.
Cake mixture
Using the whisk on a hand mixer, beat the sugar, egg yolks, oil and yoghurt in a bowl for approx. 3 mins. until light and fluffy. Stir the carrots and all the other ingredients up to and including the nutmeg into the mixture. Combine the pecan nuts, hazelnuts, flour and baking powder, stir into the mixture. Beat the egg white with the salt until stiff, carefully fold into the mixture using a rubber spatula. Transfer the cake mixture to the prepared tin.
Bake
For approx. 50 mins. in the bottom half of an oven preheated to 180°C. Remove from the oven, allow to cool a little, remove from the tin and leave to cool on a rack. Place the cake on a sheet of baking paper along with the rack and slice open crosswise.
Frosting
Beat together the butter and icing sugar using the whisk attachment on a hand mixer until the mixture turns a paler colour. Add the remaining ingredients, mix well. Spoon 1/4 of the frosting onto the sponge base and place the lid on top. Coat the cake all around with another 1/4 of the frosting. Spoon the remaining frosting into a piping bag with a serrated nozzle (approx. 14 mm diameter). Pipe over the cake, place in the fridge for approx. 30 mins.