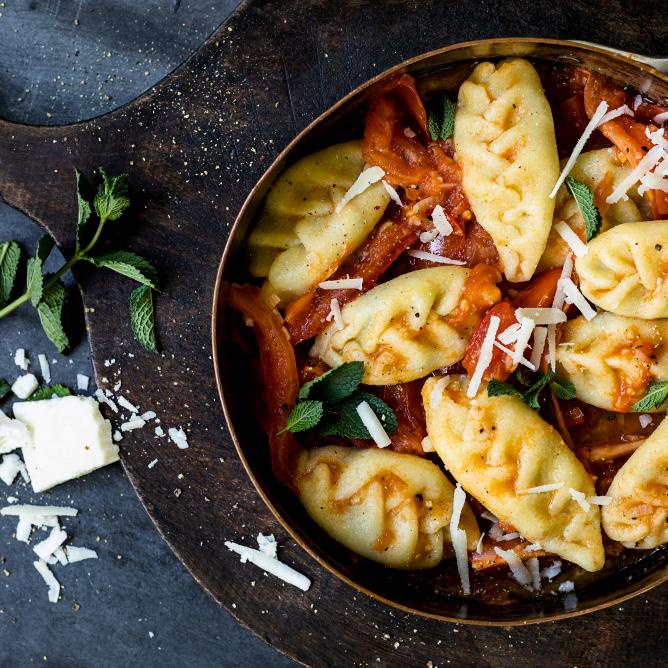 Nutrition facts per serving:
Energy in kcal

about 376

Fat

about 16g

Carbohydrates

about 42g

Protein

about 14g
This is needed
This is needed
for 4 people
Noodle dough
50 g white flour
1 dl water
0.25 tsp salt
125 g durum wheat semolina
1 tbsp olive oil
Filling
200 g mealy potatoes, cooked in their skins, freshly boiled
100 g ricotta
salt and pepper to taste
1 garlic clove, pressed
70 g Pecorino, grated
2 tbsp peppermint, finely chopped
Sauce
1 shallot, finely chopped
1 tbsp olive oil
1 garlic clove, finely chopped
400 g tomato, sliced
salt and pepper to taste
1 dl water
0.5 tsp sugar
To assemble
salted water, boiling
1 tbsp peppermint, coarsely chopped
View these products
And that's how it's done
And that's how it's done
Noodle dough
Mix the semolina, flour and salt in a bowl, pour in the water and oil, knead into a smooth dough. Wrap in cling film and leave to rest at room temperature for approx. 1 hr.
Filling
Peel the potatoes while still hot. Pass the hot potatoes through a food mill into a bowl, leave to cool slightly. Mix with the ricotta, pecorino, mint and garlic, season.
To shape
Roll out the dough in batches to approx. 2 mm thick, cut out circles (approx. 8 cm in diameter). Place approx. 1 tbsp of filling on each circle, fold the dough and use two fingers to press together the ends and create a plaited effect.
Sauce
Heat the oil in a frying pan, sauté the shallot and garlic, add the tomatoes, water and sugar, season and simmer for approx. 10 mins.
To assemble
Cook the culurgiones in boiling salted water for approx. 5 mins., drain and mix with the sauce, garnish with mint.