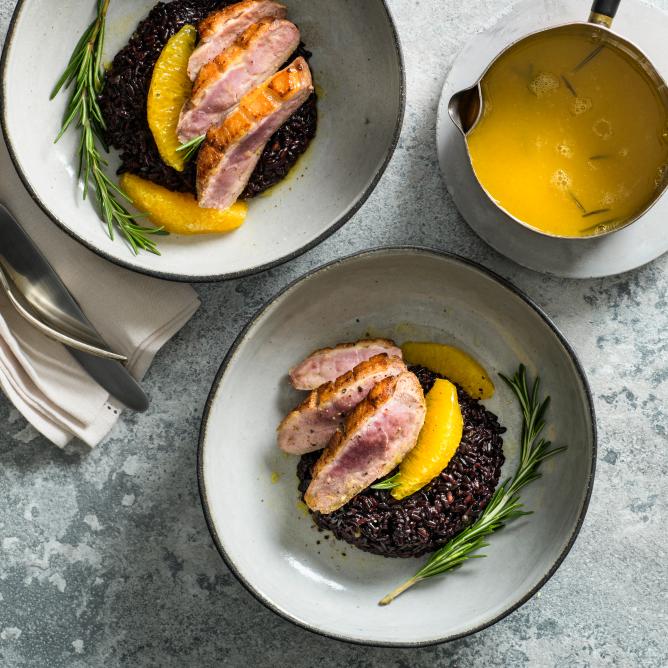 Duck breast with orange sauce
Nutrition facts per serving:
Energy in kcal

about 646

Fat

about 35g

Carbohydrates

about 51g

Protein

about 33g
This is needed
This is needed
for 4 people
Marinade
3 organic orange, zest of 1 orange peeled thinly with a peeler, cut into thin strips, all of the juice
1 pinch ground cloves
1 tsp cinnamon
2 duck breasts
Black rice
1 tbsp olive oil
1 red onion, finely chopped
1 tbsp rosemary, finely chopped
1 dl white wine
250 g Venere rice (black rice)
8 dl vegetable bouillon, hot
Sauce
0.5 tbsp honey
a little pepper
2 sprigs rosemary
1 tbsp butter, cold
1 organic orange
View these products
And that's how it's done
And that's how it's done
Marinade
4 tbsp of orange juice (the rest of the juice set aside), mix the cinnamon and ground cloves. Score the fatty side of the duck breast with a crisscross pattern, brush both sides with the marinade, cover and marinate in the fridge for approx. 30 mins.
Black rice
Heat the oil and sauté the onion and rosemary. Add the rice, stirring constantly for several minutes. Pour in the wine and reduce completely. Gradually add the bouillon to the rice, stirring frequently, so that the rice is always just covered with liquid. Simmer the rice for approx. 40 mins. The rice should still be al dente.
To fry
Salt the duck breasts, place fatty side down in a cold frying pan, heat the pan, fry the duck breasts for approx. 7 mins. until the fat turns crispy. Turn the duck breasts and fry for approx. 3 mins. Pour the remainder of the marinade over the top.
Sauce
Slice off the top and bottom of the orange, then peel all round the fruit down to the flesh. Using a sharp knife, cut out the segments between the white membranes and retain the juice (approx. 3 tbsp). Mix the reserved orange juice and zest with the honey, pour into the same pan, add the rosemary, reduce to approx. 150 ml, thicken with butter, season. Carve the duck breasts, serve with the sauce and rice.