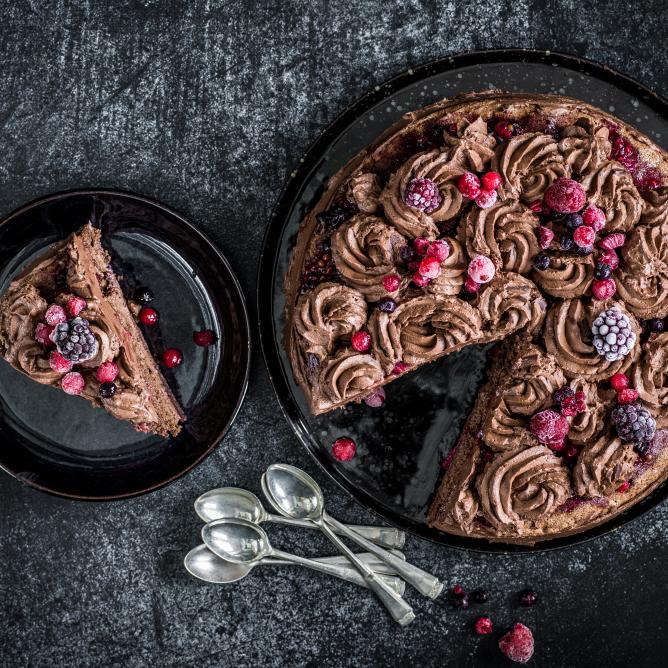 Gluten-free chocolate cake
Nutrition facts per serving:
Energy in kcal

about 398

Fat

about 25g

Carbohydrates

about 32g

Protein

about 7g
This is needed
This is needed
for 12 piece
Sponge mixture
100 g sugar
4 egg yolk
4 egg white
1 tbsp water, hot
2 pinches salt
3 tbsp sugar
0.75 tsp baking powder
100 g wholemeal rice flour
3 tbsp cocoa powder
Filling
300 g dark chocolate, finely chopped
1.5 dl full cream (lactose-free) whipped until stiff
375 g cream cheese (lactose-free)
Chocolate cake
2 tbsp sugar
200 g frozen berry mixture, defrosted
a little frozen berry mixture
Tools
One springform pan (approx. 24 cm in diameter), base lined with baking paper, sides greased
View these products
And that's how it's done
And that's how it's done
Sponge mixture
Using the whisk on a hand mixer, beat the sugar, egg yolks and water for approx. 5 mins. until the mixture is light and frothy. Beat the egg whites with the salt until stiff, add the sugar, continue beating until the egg whites turn glossy. Mix the flour, baking powder and cocoa powder, add to the mixture in layers along with the egg whites, carefully fold in using a rubber spatula, transfer the sponge mixture to the prepared tin.
To bake
Approx. 25 mins. in the lower half of an oven preheated to 180°C. Remove from the oven, allow to cool slightly, remove the tin frame, leave the sponge to cool. Tip out onto a rack, cut through the sponge once, place the base of the sponge on a cake plate.
Filling
Place the chocolate in a thin-sided bowl and suspend over a gently simmering bain-marie, ensuring that the bowl does not touch the water. Melt the chocolate and stir until smooth, allow to cool slightly. Combine the chocolate and cream cheese, fold in the whipped cream.
Chocolate cake
Mix the berries and sugar, crush with a fork. Spread half of the berry mixture over the base of the sponge. Cover with half of the chocolate mixture, place the other layer of sponge on top. Cover with the remainder of the berry mixture. Transfer the remainder of the chocolate mixture to a piping bag with a serrated nozzle (approx. 14 mm in diameter), use to decorate the cake. Spread the chocolate mixture all around the chocolate cake, decorate with berries.