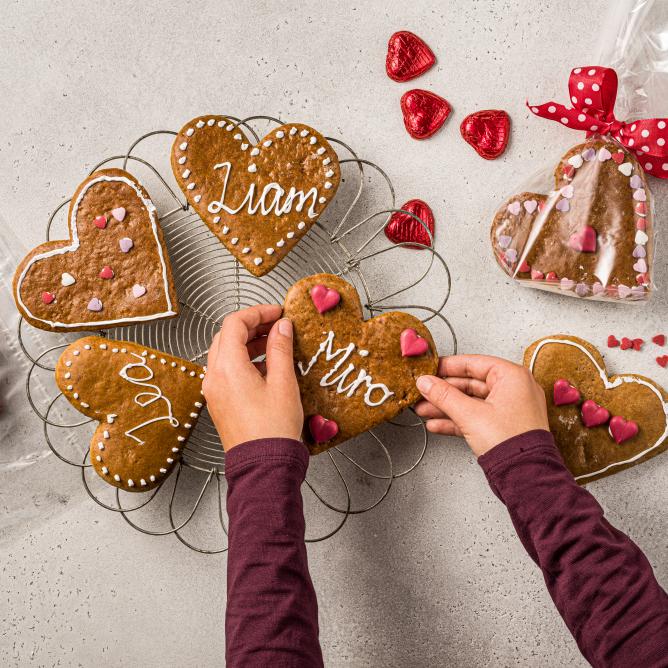 Nutrition facts per serving:
Energy in kcal

about 217

Fat

about 1g

Carbohydrates

about 46g

Protein

about 5g
This is needed
This is needed
for 12 pieces
Gingerbread dough
350 g brown flour
0.5 tbsp cocoa powder
100 g ground cane sugar
1.5 dl milk
1 tbsp gingerbread spice
80 g honey
1.5 tsp sodium bicarbonate
To decorate
1 fresh egg whites
160 g icing sugar
1 tsp lemon juice
some sugar decorations
Tools
Apron, baking paper, Baking tray, Bowl, Brush , Cutter, Fork, Measuring cup, Mixer, Oven mitts, Pan, Rolling pin, Rubber spatula, Tablespoon, Teaspoon, Timer, Wooden rolling pin guides, small bowl, Disposable piping bag, Kitchen scales, Cooling rack, Cling film
View these products
And that's how it's done
And that's how it's done
Gingerbread dough
Mix the flour, sugar, cocoa powder and gingerbread spice in a bowl. Warm the milk in a small pan. Remove the pan from the heat, add the honey and baking soda, stir until the honey has dissolved. Pour the milk into the flour, mix and knead to form a soft, smooth dough. Flatten the dough, wrap well in cling film and chill for approx. 8 hrs. or overnight.
Hearts
Knead the dough thoroughly again. On a lightly floured surface, roll out in batches to approx. 4 mm thick. Cut out hearts (approx. 12 cm in diameter), place on two baking trays lined with baking paper, brush with a little milk.
To bake
Approx. 10 mins. per tray in the centre of an oven preheated to 200°C. Remove from the oven, leave the gingerbread hearts to cool on a rack.
To decorate
Gently beat the egg whites with the lemon juice, add the icing sugar, beat using the whisk on a mixer for approx. 5 mins. until you have a thick icing. Transfer the icing to a disposable piping bag, cut off the tip. Decorate the hearts as you wish, leave to dry.