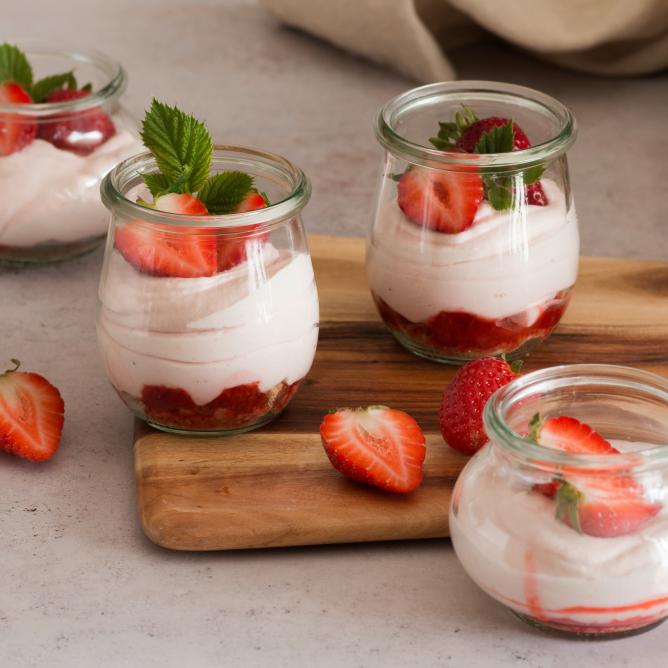 No-bake strawberry cheesecake
Nutrition facts per serving:
Energy in kcal

about 363

Fat

about 24g

Carbohydrates

about 31g

Protein

about 5g
This is needed
This is needed
for 4 people
Strawberry compote
150 g strawberries, cut into cubes
1.5 tbsp icing sugar
1 tbsp lemon juice
1 tsp vanilla paste
Strawberry mousse
115 g strawberries
125 g double cream cheese
40 g icing sugar
1 dl full cream, beaten until stiff
To serve
8 strawberries, cut in half
60 g butter biscuit, crumbled
Tools
For 4 glasses, each approx. 250 ml
View these products
And that's how it's done
And that's how it's done
Strawberry compote
Mix the strawberries, sugar and lemon juice in a pan, cover and bring to the boil. Simmer the compote for approx. 1 min., remove from the heat, stir in the vanilla paste, leave to cool.
Strawberry mousse
Puree the strawberries until smooth, pass through a sieve into a bowl. Add the cream cheese and icing sugar, puree once again until you have a creamy mixture. Carefully fold the whipped cream into the strawberry mixture.
To serve
Place the crumbled biscuits in the jars, spread the strawberry compote and mousse on top, garnish with the strawberries.