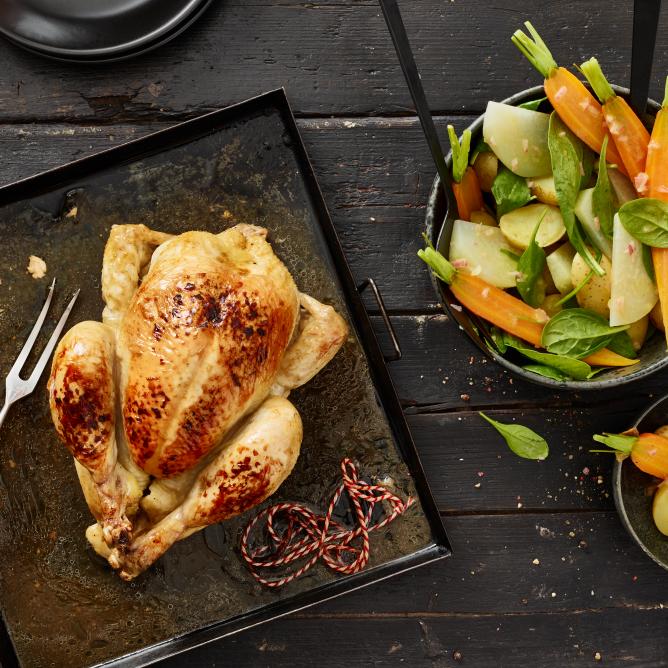 Beer roasted chicken with vegetable salad
Nutrition facts per serving:
Energy in kcal

about 582

Fat

about 28g

Carbohydrates

about 37g

Protein

about 38g
This is needed
This is needed
for 4 people
Chicken
1 lime, use only the juice
2.5 dl dark beer
2.5 dl chicken bouillon
1 tsp Maizena cornflour
2 tbsp cane sugar
1 festive chicken (approx. 1.4 kg)
a little pepper
0.5 tsp salt
Salad
600 g baby potatoes, cut in half
1 kohlrabi (approx. 250 g), cut into wedges
250 g spring carrots, cut in half lengthwise or into quarters
1 tsp salt
2 tbsp herbal vinegar
1 tsp mild mustard
1 tbsp lime juice
3 tbsp rapeseed oil
1 shallot, finely chopped
salt and pepper to taste
75 g baby spinach
View these products
And that's how it's done
And that's how it's done
Chicken
To make the jus, mix the beer with all the other ingredients up to and including the cornflour in a pan, bring to the boil and allow to cool a little. Rinse the chicken (inside and out) in cold water, pat dry, season. Place the chicken, breast side up, in a wide-bottomed, oiled casserole dish and pour over the jus. Roast for approx. 10 mins. in the lower half of an oven preheated to 220°C. Baste the chicken with the jus. Reduce the heat to 180°C, cook the chicken for another hour, spooning over the jus 3-4 times during this time. The chicken is cooked when the juices run clear when pricked. Once cooked, turn the oven off and leave the chicken to rest for approx. 10 mins. with the oven door slightly open.
Salad
Place a steaming basket into a wide-bottomed pan, fill with water until it is just below the bottom of the basket, add the potatoes, carrots and kohlrabi, season with salt, cover and cook over a medium heat for approx. 20 mins. until soft. Remove the vegetables and place in a bowl. To make the dressing, mix the mustard with all the other ingredients up to and including the shallot, season. Pour the dressing over the warm vegetables and mix well. Stir in the baby spinach shortly before serving.