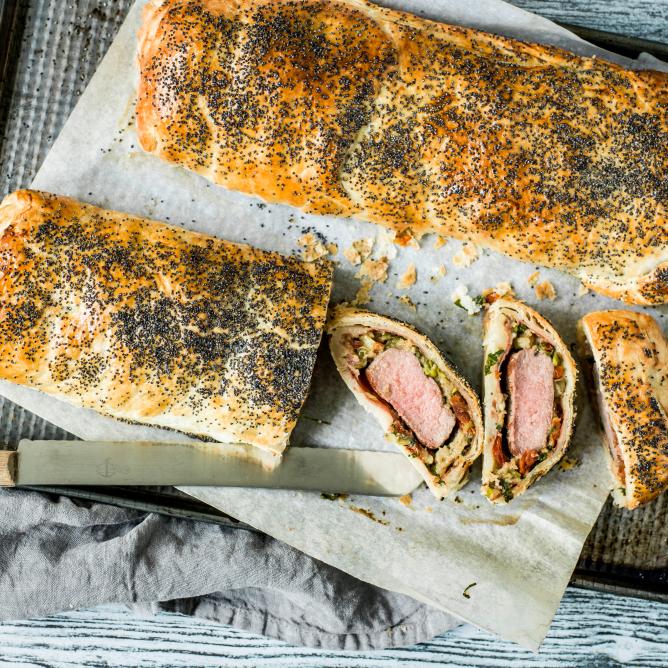 Nutrition facts per serving:
Energy in kcal

about 632

Fat

about 28g

Carbohydrates

about 44g

Protein

about 48g
This is needed
This is needed
for 8 people
Lamb
6 lamb loins (each approx. 200 g)
1 tsp salt
a little oil
Filling
6 spring onion
1 tbsp butter
100 g dried tomatoes
80 g breadcrumbs
1.5 dl white wine
0.5 bunch flat-leaf parsley
To roll
3 pieces cling film, approx. 30 x 40 cm each
18 slices cured ham
To wrap
1 tbsp poppy seed
1 egg
2 puff pastry dough, rolled into a rectangle
View these products
And that's how it's done
And that's how it's done
Lamb
Remove the meat from the fridge approx. 30 mins. prior to cooking. Heat the oil in a frying pan, brown the meat all over for approx. 30 secs., season, allow to cool on a cooling rack.
Filling
Chop the onions, slice the green part into rings. Cut the tomatoes into strips. Heat the butter in the same pan and sauté the spring onions, add the tomatoes and cook for approx. 2 mins. Stir in the breadcrumbs, pour in the wine and completely reduce the liquid, allow the mixture to cool. Roughly chop the parsley, add to the mixture.
To roll
Smooth out one sheet of clingfilm. Place 1/3 of the cured ham on the clingfilm (same length as a lamb loin and approx. 26 cm wide). Spread 1/3 of the filling over the cured ham and press down gently. Place two lamb loins one behind the other in the middle of the filling. Use the clingfilm to wrap the cured ham tightly around the lamb, remove the clingfilm. Repeat this step two more times.
To wrap
Cut the pastry in half crosswise. Place a lamb roll in the centre of each piece of pastry. Cut the fourth piece of pastry into thirds lengthwise and place one strip of pastry over each piece of meat. Beat the egg and use it to coat the edges of the pastry. First fold in the short sides then the long sides, press down firmly. Place the pastry parcels with the seam facing downwards on a baking tray lined with baking paper, brush with egg, sprinkle with poppy seeds.
To bake
For approx. 20 mins. in the centre of an oven preheated to 200°C. Turn the oven off and allow the lamb to rest with the oven door slightly ajar for approx. 10 mins.