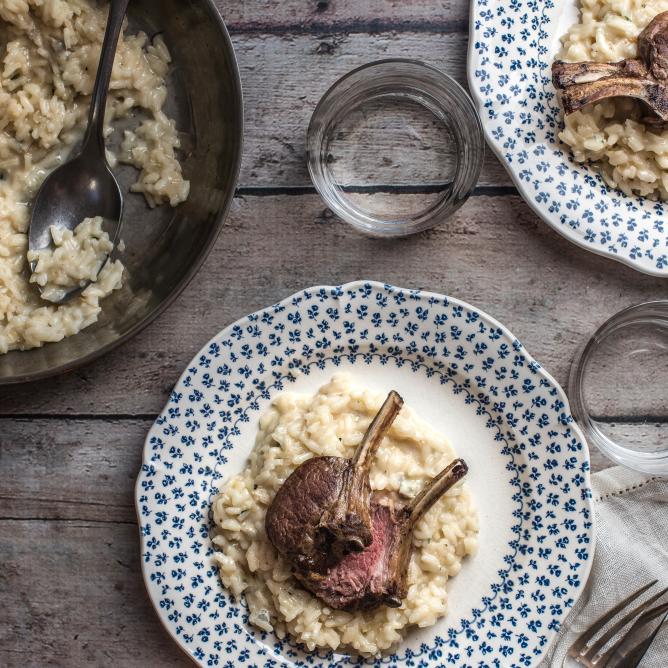 Rack of lamb with Roquefort risotto
Nutrition facts per serving:
Energy in kcal

about 736

Fat

about 42g

Carbohydrates

about 49g

Protein

about 0g
This is needed
This is needed
for 4 people
Meat
1 tbsp balsamic vinegar
2 tbsp olive oil
some mixed peppercorns, crushed
2 racks of lamb (each approx. 350 g)
1 tbsp olive oil for frying
1 tsp salt
Risotto
1 tbsp olive oil
1 onions, finely chopped
8 dl vegetable bouillon, hot
80 g grated Parmesan
1 dl white wine
1 tsp thyme, finely chopped
salt and pepper to taste
200 g risotto rice (e.g. Carnaroli)
100 g blue cheese (e.g. Roquefort), cut into small pieces
View these products
And that's how it's done
And that's how it's done
Meat
Combine the balsamic, oil and pepper, coat the meat, cover and marinate for approx. 30 mins. Heat the oil in a frying pan. Salt the meat and brown all over for approx. 8 mins. over a medium heat. Remove, transfer to a tray lined with baking paper.
To bake
Bake for approx. 10 mins. in the centre of an oven preheated to 150 °C. Switch off the oven and leave the lamb racks resting in the oven for approx. 10 mins.
Risotto
Heat the oil in a pan and sauté the onion. Add the rice, sauté while stirring until translucent. Pour in the wine and reduce completely. Gradually add the stock, stirring frequently, so that the rice is always just covered with liquid, simmer for about 20 mins. until the rice is creamy and al dente. Stir in the Parmesan and thyme. Mix the Roquefort into the risotto, season. Carve the meat, plate up with the risotto.