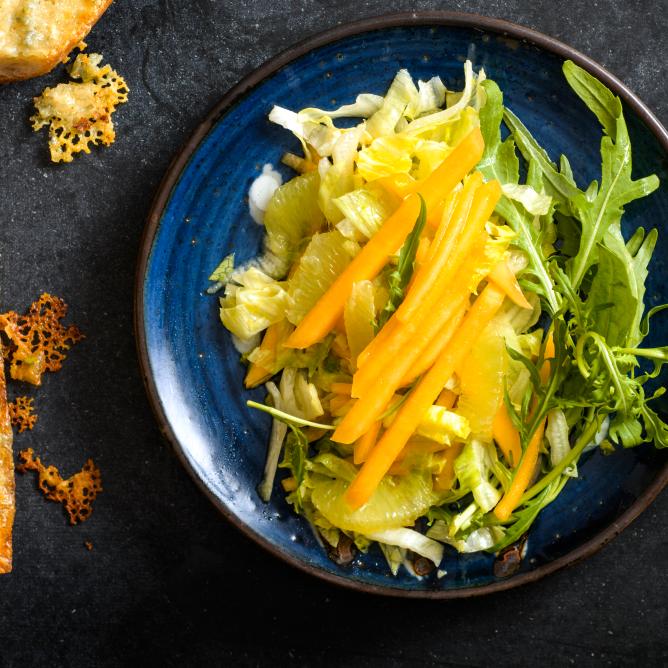 Marinated iceberg and melon salad
Nutrition facts per serving:
This is needed
This is needed
for 4 people
Dressing
2 tbsp sweet wine, e.g. Moscato d'Asti
2 tbsp rapeseed oil
1 lime
pepper
salt
Salad
1 charentais melon
1 iceberg lettuce
a little rocket to garnish
Crostini
100 g blue cheese (e.g. Gorgonzola)
20 g butter, soft
0.5 baguettes
View these products
And that's how it's done
And that's how it's done
Dressing
Segment the lime, retaining the juice. Set aside the lime segments. Combine the juice with the oil and wine, season.
Salad
Halve the melon, remove the seeds and the skin. Slice horizontally, then into strips. Divide the iceberg lettuce into eighths and slice very finely. Mix the melon, lettuce and reserved lime segments with the dressing, plate up. Scatter with rocket.
Crostini
Halve the baguette lengthwise. Mix the Gorgonzola with the butter and spread over the baguette halves. Place the crostini on a baking tray lined with baking paper and gratinate for approx. 10 mins. in the centre of an oven preheated to 220°C. Serve hot with the salad.