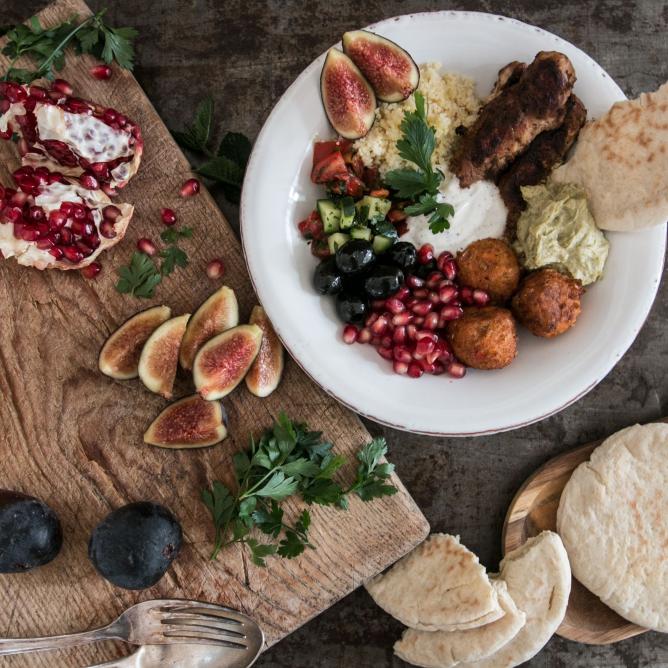 Nutrition facts per serving:
Energy in kcal

about 861

Fat

about 43g

Carbohydrates

about 79g

Protein

about 35g
This is needed
This is needed
for 4 people
Israeli salad
1 cucumber, finely diced
4 tomato, finely diced
3 tbsp olive oil
1 bunch flat-leaf parsley, finely chopped
0.5 lemon, the whole juice
herb salt, to taste
Couscous
150 g couscous (approx. 1 cup)
3 dl water, boiling
a little butter
a little olive oil
Chicken
300 g tender chicken breast fillets
2 tsp Oriental spice mix
1 tbsp liquid honey
1 tbsp white vermouth (e.g. Noilly Prat)
Yoghurt sauce
400 g plain greek yoghurt
0.5 cucumber, grated
1 organic lemon, grated zest and the juice
a little olive oil
a little Oriental spice mix
To serve
150 g hummus (e.g. Karma)
1 pomegranate, insides removed
200 g falafels (pumpkin falafel)
50 g pitted black olives, Fine Food Olive Taggiasche, drained
4 figs, cut into quarters
View these products
And that's how it's done
And that's how it's done
Israeli salad
Mix the tomatoes, cucumber and parsley in a bowl. Stir in the lemon juice and olive oil, and season with herb salt.
Couscous
Place the couscous in a bowl. Pour over double that amount of boiling water, cover, and allow to stand for approx. 10 mins., then stir in the butter and oil and allow to cool. Separate the couscous with two forks.
Chicken
Pat the chicken dry, and place in a bowl. Combine the spice mix with the honey and Vermouth, add to the chicken, mix, cover, and marinate in the fridge for approx. 30 mins. Remove the chicken from the marinade, fry briefly in a non-stick frying pan, add the rest of the marinade, and simmer until the chicken is cooked.
Yoghurt sauce
Mix the yoghurt with the lemon, cucumber and olive oil, season with sumac.
To serve
Serve the falafel, hummus, couscous, chicken and Israeli salad, as well as the pomegranate seeds and olives, in a deep dish. Garnish with fig quarters.