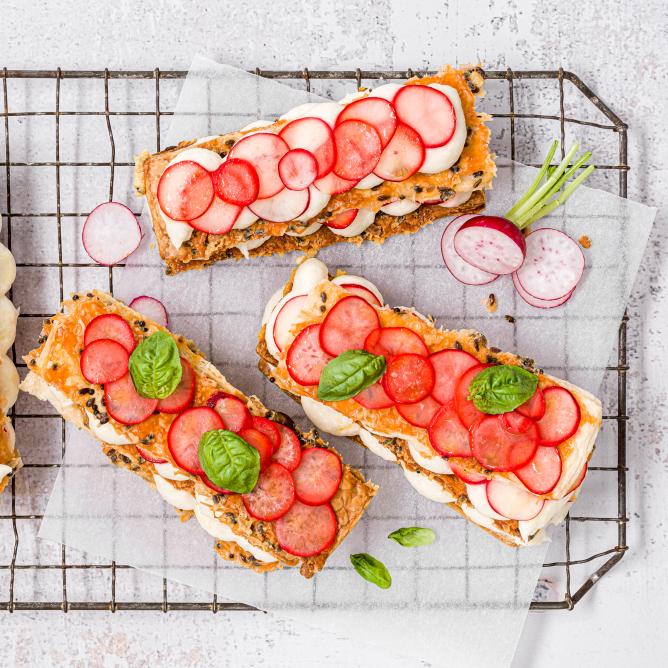 Asparagus and radish cream slices
Nutrition facts per serving:
Energy in kcal

about 318

Fat

about 23g

Carbohydrates

about 20g

Protein

about 8g
This is needed
This is needed
for 6 pieces
Puff pastry
1 puff pastry dough, rolled into a rectangle (approx. 25 x 42 cm)
50 g tangy Appenzeller, coarsely grated
2 tbsp mixed seeds
Asparagus cream
0.25 tsp salt
3.5 leaves gelatine immersed in cold water for approx. 5 mins., drained
1 dl cream, whipped until stiff
salt and pepper to taste
1.5 dl water
250 g white asparagus, completely peeled, cut into pieces
Slices
1 tbsp olive oil
0.25 tsp salt
1 tbsp lemon juice
1 bunch radish, thinly sliced
View these products
And that's how it's done
And that's how it's done
Puff pastry
Roll out the pastry dough, sprinkle the cheese and mixed seeds on top, roll with a rolling pin. Halve the dough lengthwise, cut each half into 9 equal rectangles. Slide onto a tray together with the baking paper, place a second sheet of baking paper over the dough and weigh down with a second tray.
To bake
Approx. 20 mins. in the centre of an oven preheated to 220°C. Remove from the oven, remove the tray and baking paper, slide onto a cooling rack and leave to cool.
Asparagus cream
Bring the water to the boil, season with salt, add the asparagus, cover and simmer for approx. 10 mins. until soft, puree with the liquid. Stir the gelatine into the hot mixture, chill until just set at the edges, then stir until smooth. Fold in the whipped cream, season, transfer to a piping bag with a smooth nozzle (approx. 12 mm in diameter), chill for at least 2 hrs.
Slices
Whisk together the oil and lemon juice, season with salt. Add the radishes, mix. Pipe the asparagus cream onto 12 pieces of puff pastry, arrange 3/4 of the radishes on top so that they overlap. Place 2 of these slices on top of each other, cover with the remaining slices, top with the remaining radishes.