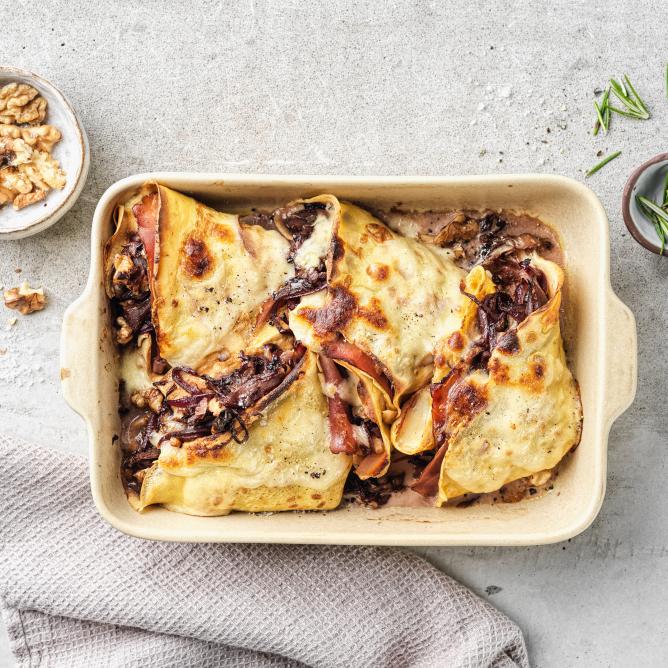 Nutrition facts per serving:
Energy in kcal

about 324

Fat

about 31g

Carbohydrates

about 14g

Protein

about 18g
This is needed
This is needed
for 4 people
Crêpes
0.25 tsp salt
40 g white flour
0.25 dl water
0.5 dl lactose-free milk
1 egg
oil for frying
Filling
1 red onion, cut into thin slices
1 tsp rosemary, finely chopped
0.5 tsp salt
1 tbsp balsamic vinegar
1 tbsp olive oil
a little pepper
200 g red chicory, cut into thin slices
0.5 tbsp honey
20 g walnut kernels, coarsely chopped
4 tbsp grated Parmesan
125 g lactose-free mozzarella, torn into pieces
2 tbsp lactose-free milk
60 g smoked ham in slices
Tools
One ovenproof dish (approx. 1 l), greased
View these products
And that's how it's done
And that's how it's done
Crêpes
Mix the flour and salt in a bowl. Pour in the milk, stir until smooth. Add the water and egg, whisk to form a smooth batter. Cover and leave to stand at room temperature for approx. 30 mins. Heat a dash of oil in a non-stick frying pan. Pour ¼ of the batter into the pan to make a crêpe (approx. 15 cm in diameter). Reduce the heat. Once the underside is cooked and separates from the pan, turn the crêpe and finish cooking. Slide the crêpe onto a plate. Repeat this step three more times.
Filling
Heat the oil in the same pan. Sauté the onion and rosemary for approx. 5 mins., add the chicory and cook for a further 5 mins. Add the honey and balsamic, season. Mix in the walnuts. Place one slice of ham, 2 tbsp of filling and some mozzarella on each crêpe, fold in twice and place in the prepared dish. Mix the parmesan and milk, pour on top of the crêpes along with the rest of the filling.
To finish in the oven
Approx. 10 mins. in the upper half of an oven preheated to 220°C.