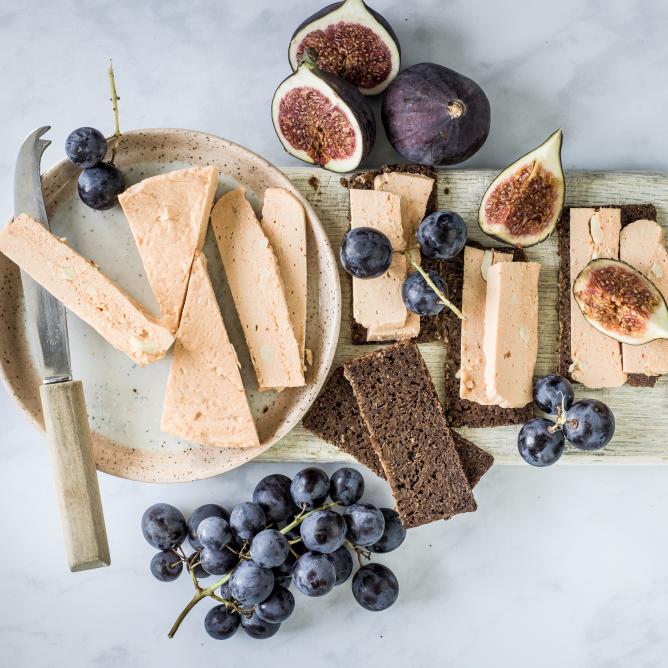 Plant-based alternative to semi-hard cheese
Nutrition facts per serving:
Energy in kcal

about 413

Fat

about 35g

Carbohydrates

about 16g

Protein

about 12g
This is needed
This is needed
for 300 g
Nut mixture
100 g cashew nuts
4 tbsp nutritional yeast
4 tbsp sunflower oil
1.5 tsp onion powder
3 tbsp lemon juice
1 tbsp Ajvar (pepper spread)
1 tsp salt
0.5 tsp garlic powder
2 dl soya drink
a little pepper
4 tsp agar-agar (morga) (Morga, approx. 8 g)
Tools
One round tin (approx. 15 cm in diameter), brushed with a little oil and lined with cling film
View these products
And that's how it's done
And that's how it's done
Nut mixture
In a food processor, puree the nuts with all the other ingredients up to and including the pepper to create a smooth, homogeneous mass. Combine the soya drink and agar-agar in a small pan, bring to the boil while stirring, boil fast for approx. 1 min. while stirring. Add the soya drink to the nut mixture, puree briefly. Transfer the mixture to the prepared tin immediately, leave to cool. Cover and refrigerate for approx. 4 hrs. until set.