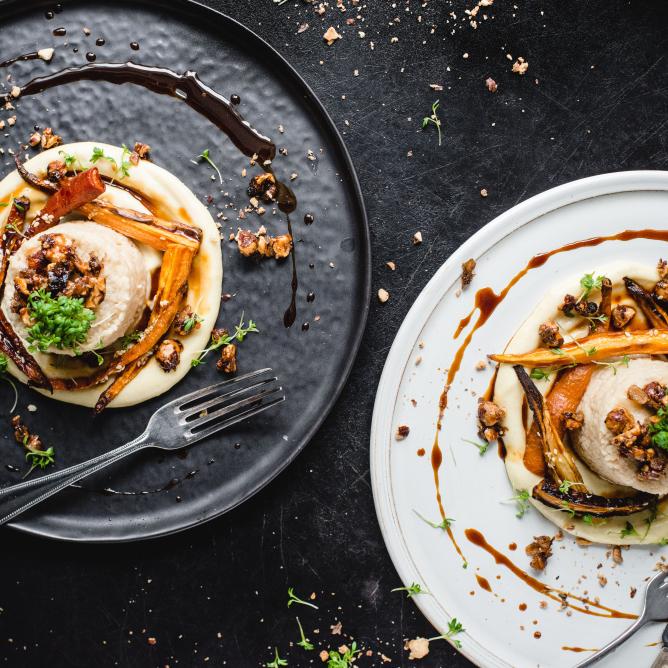 Cheesy couscous with vanilla carrots
Nutrition facts per serving:
Energy in kcal

about 874

Fat

about 42g

Carbohydrates

about 96g

Protein

about 27g
This is needed
This is needed
for 6 people
Pecan crunch
3 tbsp maple syrup
150 g pecan nuts, roughly chopped
0.75 tsp Himalayan salt
Orange & passion fruit reduction
1 pinch Himalayan salt
100 g coconut palm sugar
2 dl orange juice
4 passion fruit, halved, pulp scooped out
Potato and celeriac mash
1.5 litres vegetable bouillon
1 onions, quartered
2 garlic clove, quartered
400 g potatoes
2 tbsp olive oil
200 g celeriac, cut into chunks
1 dl soya drink
Vanilla carrots
1 tbsp maple syrup
500 g carrots
1 vanilla pod, cut open lengthwise; only use the scraped-out seeds
2 tbsp olive oil
a little pepper
1 tsp sea salt
Cheesy couscous
400 g couscous
1 onions, finely chopped
1 garlic clove, quartered
1 tbsp olive oil
220 g mountain cheese
1 tsp chilli flakes
1 tsp Himalayan salt
a little pepper
View these products
And that's how it's done
And that's how it's done
Pecan crunch
Mix the pecan nuts with the maple syrup and salt. Spread onto a baking tray lined with baking paper. Bake for approx. 15 mins. in the centre of an oven preheated to 160°C, allow to cool and break into pieces.
Orange & passion fruit reduction
Place the orange juice, coconut palm sugar, passion fruit pulp and salt in a pan and bring to the boil, simmer for approx. 2 mins., reduce the heat, simmer over a low to medium heat for approx. 20 mins., stirring occasionally. Remove from the heat and briefly warm through just before serving.
Potato and celeriac mash
Place the vegetable bouillon, onions, garlic, potatoes and celeriac in a pan and bring to the boil, cook for approx. 30 mins. until soft. Add more water if necessary. Drain well. Puree the olive oil and soya milk in a blender for approx. 10 secs. Transfer to a pan and briefly warm through before serving.
Vanilla carrots
Mix the olive oil, maple syrup, vanilla seeds, salt and pepper in a large bowl, add the carrots and mix well. Bake for approx. 25-30 mins. in the centre of an oven preheated to 200°C.
Cheesy couscous
Prepare the couscous according to the packet instructions. Heat the olive oil, sauté the onions and garlic. Add the cheese, couscous and chilli flakes, mix until the cheese has melted, season. Add more chilli flakes as desired.
To serve
Spread a large spoonful of the warm potato and celeriac mash onto the plates, place a timbale of cheesy couscous on top of the mash and then add the vanilla carrots, drizzle with the reduction and sprinkle with the maple roasted pecans.