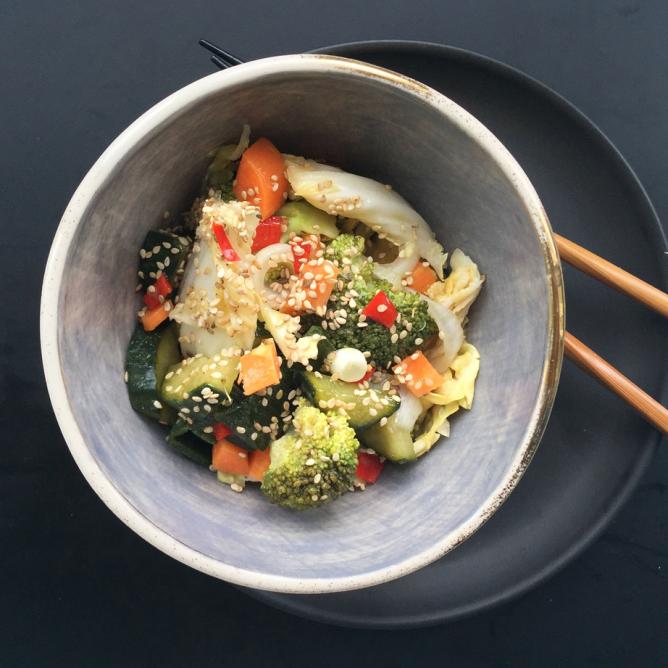 Nutrition facts per serving:
Energy in kcal

about 632

Fat

about 27g

Carbohydrates

about 64g

Protein

about 18g
This is needed
This is needed
for 1 glass
Vegetables
1 broccoli
1 Chinese cabbage
1 cucumber
1 carrots
1 red chilli
2 spring onion
50 g salt, iodized
Kimchi sauce
4 tbsp gluten-free flour
3 garlic clove, pressed
300 ml water, cold
2 tbsp dark sesame oil
2 tbsp soy sauce (e.g. tamari)
2 tbsp apple sauce
4 cm ginger, finely chopped
Tools
One large preserving jar (min. 1 kg)
View these products
And that's how it's done
And that's how it's done
Vegetables
Cut the nappa cabbage, broccoli, cucumber and carrots into bite-size pieces, slice the spring onions into rings. Deseed the chilli and cut into rings. Mix the vegetables and layer in a bowl with the salt. Fill the bowl to the brim with water, leave to stand for approx. 35 mins.
Kimchi sauce
Mix the rice flour and water until smooth, bring to the boil while stirring. Remove the pan from the heat, allow the mixture to cool a little and expand. Stir in the garlic, ginger, sesame oil, soy sauce and apple sauce.
To decorate
Thoroughly rinse the preserved vegetables in water, drain, rub the kimchi sauce evenly into the vegetables, including between the individual layers of cabbage leaves and vegetables. Transfer the vegetables to the preserving jar, press down so that no air pockets remain between the cabbage leaves. Leave a finger's width at the top of the jar to allow for the lactic acid fermentation. Seal the jar and allow the contents to ferment at room temperature for up to 2 days. Sprinkle with sesame seeds to serve.